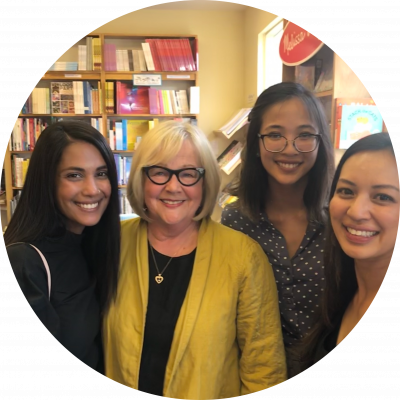 In May 2019, I attended the Meditation & Psychotherapy Conference in Boston; an annual event put on by Harvard Medical School. It was more exciting than usual for me because it was the first time ever I would see the published version of my book How to Tame the Tumbles the Mindful Self-Compassionate Way and it would also be for sale at a Harvard conference. My mother would have been so proud! I knew my friends and colleagues really appreciated the book, but what about the parents and children I didn't know. Would anyone of them find it helpful? I didn't have to wait long for an answer. A person who was also attending the conference herself approached me and told me her friend had purchased 2 copies and had gifted her one. She said she had read the first few chapters in her hotel room after the first day of the conference and Isabella Esmeralda Anastasia Pookapoo  (the main character in my book) could easily be her child. She wanted me to know that the story would help her daughter see herself in a different way –no longer as a bad kid but a kid with a tumble problem and also have a mom with a fun way to help her tame it. More importantly, it had dramatically shifted how she herself saw her child and her success as a mother. With tears streaming down her face, she asked permission to hug me … (that's what therapist do) … and of course my answer was yes. As we hugged one another, tears welled up in me too! What she conveyed to me in that very special moment between us the why,  of why I wrote this book.
A kind and thoughtful person who is also a Zaidie, emailed recently to give me some feedback on my book. He wanted me to know that "he had enjoyed having such a fun and precious time with his grandkids" and "a magical family moment" as he read it to them. That was great to know because I want adults reading the book to enjoy the experience and have some fun well reading it too!
As per my instructions in the "how to use this book section of the book" an adult is encouraged to read it first to become familiar with the concepts and practices in it. He wrote that he had read it to his wife on their drive to see their grandchildren in the United States. After discussing the books' content, they both agreed it was an important and worthwhile book for their grandchildren, ages 7 and 9 to listen to.
I am sure it wasn't an easy task to have two busy children sit down and listen. Their Zaidie had heard me speak about my book. He knew I had read each draft to young people I knew to get their feedback on it and once received I had received it, made changes to the words and the storyline accordingly. He told his grandchildren that he thought I would really appreciate hearing what the two of them thought about the book and boy was he right! It was very special for me to hear the children's opinions and their lovely voices.
I want to thank each of them for not only taking the time out of their busy day to listen to my story and give me feedback on it; but for also agreeing to do so while their Zaidie asked questions in an interview format and recorded what they each had to say. When I heard the interview the first time I had a smile on my face that was so big I thought my face would crack open with happiness! No worries though, it didn't. But why was I so happy? First, there were two young people, I don't even know, finding my story to be something that will help children with hard stuff; and, at the same time, having some fun along the way.  And second, I was very happy for their enthusiastic answer to the question their Zaidie asked at the end about their thoughts on if I should write more books. They both said they thought so. That really meant a lot to me! After I heard their response, maybe I will.
A grandfather interviews his grandchildren after reading them the book. Published with permission.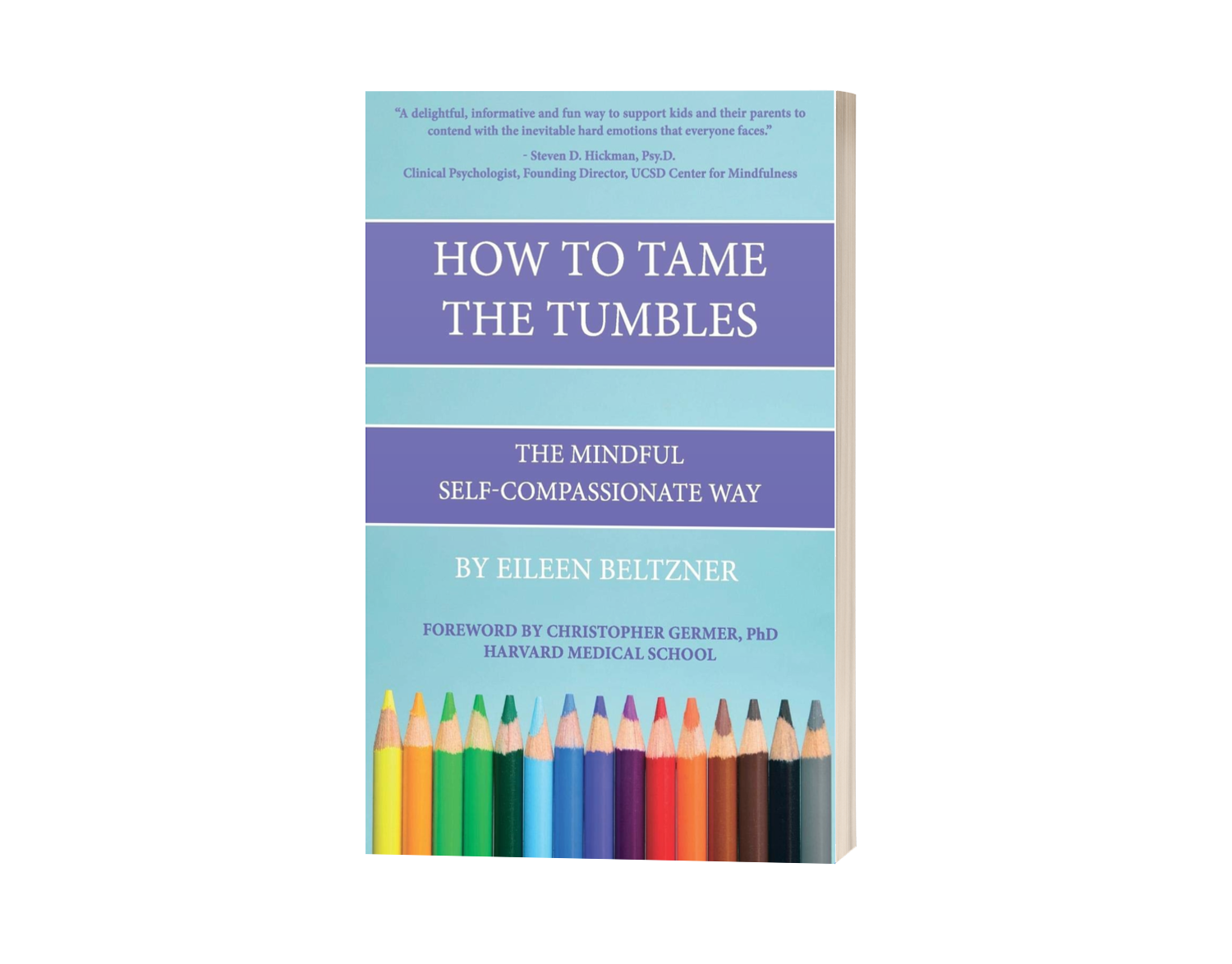 Here's what others say about the book:
Awesome Book – July 20, 2019 – 5* Review on Amazon.com 
This is a really sweet story of a young girl who has difficulty with "taming the tumbles", better known to us educators as emotion regulation. The beauty is that she overcomes her challenges with emotion regulation through mindfulness and self-compassion, rather than through punitive disciplinary measures. As an educator who has a PhD in child development, I feel confident that this book will help any young readers who have difficulty controlling their emotions. I highly recommend it! (Karen Bluth)
Great Book! – September 20, 2019 – 5* Review on Amazon.ca
This was perfect for my daughter, would definitely recommend for every parent. (Nolan)
Precise! – November 24, 2019 – 5* Review on Amazon.ca
Beauty in simplicity! Down to the point. Loved how the whole process unfolds…. Chapter by chapter leaving behind a deep understanding of reactions to mad feelings inside us and constructive way to deal with it. A. M
This book should be in every parent's possession – Dec. 26, 2019 – 5* Review on Amazon.com 
This short book uses an engaging story of a little girl who is having trouble managing her feelings. When she has lost her friends due to her unkind words and actions, she is ready to learn from her parents a more kind and helpful way. I love how the author teaches the basics of mindful self-compassion so that children will be interested and can understand how to gain these skills. She uses concrete metaphors as the basis for the lessons and skills such as learning to ride the elevator (which is a child's practice for a body scan.) The author also includes many resources at the back of the book for parents and professionals. I highly recommend this book! (Johnathan Guinn)
"How to Tame the Tumbles the Mindful Self-Compassionate Way, is a funny, engaging story that teaches children how to be kinder and more supportive to themselves when experiencing difficult emotions.  There are very few books written for kids on self-compassion, and this one is sure to be a classic. Parents who read this wonderful story with their children can help them learn one of the most important lessons in life: It's not what happens to you, but how you treat yourself when times are tough – as an inner friend or an inner enemy – that determines our ability to succeed and thrive."
Kristin Neff, Ph.D. – Associate Professor, Department of Educational Psychology, The University of Texas at Austin, Author of "The Mindful Self-Compassion Workbook" & "Self-Compassion: The Proven Power of Being Kind to Yourself & Co-author of "The Mindful Self-Compassion Workbook: A Proven Way to Accept Yourself, Build Inner Strength, and Thrive"
"How to Tame the Tumbles the Mindful Self-Compassionate Way, offers simple powerful practices to support children and adults in, as I like to say, having our feelings without our feelings having us and making us say and do things we regret."
Dr. Amy Saltzman – Director of the Association for Mindfulness in Education, Author of  "A Still Quiet Place: A Mindfulness Program for Teaching Children and Adolescents to Ease Stress And Difficult Emotions."
"As an educator and a grandmother, I am so excited to see this book come to print.  Eileen has used this vehicle to transport both children and parents through very difficult terrain, emotional regulation.  Offering bite size pieces of understanding and then actual practices that will help parents (or teachers) talk about and practice what to do when the inevitable difficult emotions must be navigated.  I especially appreciate the non-judgmental elements embedded throughout this wonderful educational children's book.
Patricia Ward, M.Ed. – Educational Consultant & Mindful Schools Guiding Teacher
"How to Tame the Tumbles the Mindful Self-Compassionate Way" is a fun, interactive resource for children and people who care about them.  It introduces language and practices which can help children to cultivate awareness of their emotions, and to begin to respond to whatever is arising in a healthier way.  In so doing, it provides parents and teachers with the capacity to teach children skills, which they themselves may never have been taught.
Dr. Alison Kelford, MHSc, CCFP, FCFP – Family Physician
"With her years of experience in the mental health field, Eileen writes with gentle wisdom and quiet humour a story about Isabella Esmeralda, a child struggling with self-regulation and anger management along with the hurt of lost friendships which are the result.  Teachers, parents, indeed anyone who works with children will recognize the need for and will welcome with relief this wonderful book.  It is fun to read with a child and the step-by-step instructions to learn self and anger management are easy to follow.  Put simply, this is an outstanding resource."
Mary Walker, BA, Honours Psych, Cert. Ed.
"Few lessons in life are more important than learning to tame our "tumbles" and Eileen Beltzner has found a delightful, informative and fun way to support kids and their parents to contend with the inevitable hard emotions that everyone faces. This book is a brilliant and eminently helpful application of the groundbreaking self-compassion work of Drs. Kristin Neff and Chris Germer, brought to life through the eyes of Isabella Esmeralda Anastasia Pookapoo and the whole Pookapoo family. Read this book. Read it again with your child who has a case of the tumbles. And together you will find a delightful way to tame them."
Steven D. Hickman, Psy.D. – Clinical Psychologist, Founding Director, UC San Diego Center for Mindfulness and Executive Director, Center for Mindful Self-Compassion
Other books written by Eileen Beltzner:
Forty years ago Eileen's initial training was as a Special Care Counsellor in the parent-infant field. A published research project she was one of the authors of: Reducing Stress in First-Time Mothers, led to her writing a book called The Handbook for First-Time Parents and later a booklet, Ups and Downs: A New Mother's Guide, helping families distinguish between what was a Postpartum Mood Disorder (PPD) and what was not.She was very honored to receive the Mary Neville Award for her work. It is presented to people for their outstanding contributions towards prevention and early intervention in children's mental health services. Receiving this award validated her efforts, her passion and her drive to continue to work for the next 15 years towards reducing the stigma, silence and ignorance surrounding PPD and developing support services for postpartum families. This work cumulated in the creation of a national Canadian organization, Postpartum Adjustment Support Services – Canada (PASS-CAN). Reaching out and connecting with other countries worldwide, eventually led to her becoming the President of Postpartum Support International (PSI).
Since that time she has had many rich experiences and adventures as a life long student learning her craft, as a Child and Family Therapist, as a wife, a mother, a daughter, a sister and a happy and sometimes struggling human being.
And now she is a Nana to a delightful little human being whose name is Samuel. His entry into the world, a few short years ago, has returned her to her first passion – supporting parents in "raising up" all the children depending on them for their happiness … health …strength … safety … and kindness. Her wish is that her book, How to Tame the Tumbles the Mindful Self-Compassionate Way for Parents and Children will contribute to supporting parents in doing just that!