Next Adapted MSC for Teens Program in Oakville starts 6.30pm-8.15pm March 26,2020 through to May 21, 2020. Information and registration here
A Mindful Self-Compassion Program for Teens and Young Adults
New - Watch Eileen's CHCH interview on teens and mindfulness here
New: - Read Eileen's latest article in Oakvillenews.org - "The importance of self-compassion for Teens"

"At long last, a self-compassion training for teens! This delightful, innovative program captures the essence of self-compassion for an age group that needs it the most. Wholeheartedly recommended!" — Christopher Germer, PhD
Adolescence is a time of change and growth. It is a robust period of life reserved for rebellion and self-discovery, but as the demands of life increase for teens and young adults, this time is often fraught with confusion, apprehension, uneasiness, anxiousness and low mood. For many young people, these challenges lead to disconnection and isolation.
MSC for Teens is an eight-week, 1 hour and 45 minutes a week, evidenced based training program, designed to help teens, ages 12-15 years of age, cope more effectively with the ongoing challenges of their day-to-day life. It brings together the benefits of mindfulness and self-compassion: Mindfulness teaches the young person to be present with difficult emotions. Self-compassion helps the young person respond to the challenges they face with greater kindness and self-care. Mindfulness also helps young people to cultivate skills of self-awareness and emotional resilience.
MSC for Teens incorporates developmentally appropriate activities and mindful-self compassion practices that help teens learn specific tools to navigate the emotional ups and downs of this life stage with greater ease.
A preliminary research study on the effectiveness of this program demonstrated a 32% decrease in depression, anxiety, perceived stress and negative mood from before to after taking this program.
THE MSC FOR TEENS PROGRAM
Interview
Prior to acceptance into the MSC for Teens 8 week program, a 30-minute interview with the parent(s) and teen is necessary to confirm if this program is appropriate at this time. If MSC for Teens Program is deemed to not be appropriate at this time, the full course fee will be returned. Once registration and payment is completed, an interview time will be scheduled.
Workshop for Parents/Caregivers
A 2 hour workshop for the parent(s) or caregiver(s) on Mindful Self-Compassionate Parenting is a requirement of this program. This workshop is held after the date of completion of the teen's 4th MFY session.
Program Cost  - (In some situations, an insurance receipt can be issued.)
The cost for the full program includes materials, student handbook, audio files and a 2 hour workshop for parent(s).
Facilitators - Eileen Beltzner SCC, CMSCT, MSW, RSW and Michelle Taggart B.A, B.Ed.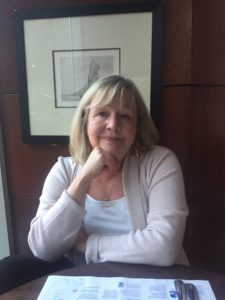 Eileen Beltzner: SCC BA MSW RSW
Eileen is a Child & Family Therapist. For over 10 years she worked with families, parents, teens and children at Reach Out Centre for Kids (ROCK). Eileen is a Faculty Member at the Centre for Mindfulness Studies in Toronto, Canada where she teaches, in the 8-week and 5-day intensive format; the evidenced based, emotional resiliency training program, Mindful Self-Compassion (MSC); developed by Kristin Neff Ph.D. and Christopher Germer Ph.D. Eileen is currently offering the 8-week MSC training program for adults in Oakville and in Toronto.
Eileen has been incorporating Mindful Based Cognitive Therapy (MBCT) and Mindful Self-Compassion (MSC) practices into her work with teachers, health-care professionals and other clients for a number of years. Besides being a member in good standing with the Ontario Association of Professional Social Workers (OASW) and the Ontario College of Social Workers and Social Service Workers; she is a parent and a Nana.
She is an author, a published researcher, an Empathy Fatigue Prevention & Recovery Specialist, a Mindful Based Cognitive Therapist and Group Facilitator. Her most recent book, "How to Tame the Tumbles the Mindful Self-Compassionate Way for Parents and Children" will be available in late winter/early spring 2019. Available for pre-order on Amazon. For more information about her latest book, please go to www.selfcompassionsolutions.com
Michelle Taggart B.A, B.Ed.
Mindful Self-Compassion (MSC) Teacher & Making Friends with Yourself (MFY) Teen Teacher
Kristin Neff Ph.D. and Christopher Germer Ph.D. first introduced Michelle to Mindful Self-Compassion (MSC) in 2010, through their books.  She instantly knew the skills and exercises they were teaching were not only valuable and beneficial for her but would be so for so many others.
To this end, Michelle became heavily involved in Mindfulness Based Stress Reduction (MBSR) and intensives in Oakville at The Mindfulness Centre.  She then pursued the 8 - week Mindful Self-Compassion (MSC) evidenced based, emotional resiliency training program developed by Neff and Germer at the Centre for Mindfulness Studies in Toronto being taught by faculty members Eileen and Rainer Beltzner, both Certified Mindful Self-Compassion Teachers. In the year that followed Michelle completed the MSC teacher training and is currently working towards the status of becoming a trained MSC teacher.
With some encouragement from her mentor Eileen Beltzner, Michelle decided Making Friends with Yourself (MFY) program for teens, an adapted version of the MSC adult curriculum, was also something she wanted to find out more about and off she went to Winnipeg, Manitoba in the summer of 2018 and took the MFY teacher training. She fell in love with MFY and just knew this was also something she wanted to teach; and now, along with her mentor, the MFY program will be offered to teens right in her hometown – Oakville, ON.
Michelle has always done her best to offer her invaluable skill sets to her community as it relates to loss and serious life threatening illnesses; and the anxiety, depression and trauma that often accompany such challenges. Besides all of this, Michelle's worked in the corporate world for close to 20 years and excelled as a consultant in talent development and adult curriculum specialization.
More importantly, she is a human being and a parent of a teen.  We are delighted to have her as part of our self-compassion solutionsteam to help all people, one person at a time; to be happy, healthy, peaceful and strong.
Next Program - To be scheduled (send an email to msc@bell.net if you're interested in hearing about our next program)
Additional Information
For further background information on the MFY program including the research overview and related publications, please go to https://centerformsc.org/msc-teens-adults/
Read more about teens and self-compassion
How to Help Teens Become More Self Compassionate
Benefits of Self-Compassion: When Teens Are Too Hard On Themselves
Why Teens, More Than Ever, Need To Learn To Be Kind - To Themselves
How We CanKeep Teens From Killing Themselves
Can Self-Compassion Improve Well-Being In Teens?
The Power of Self-compassion Podcast, With Karen Bluth